New eats
June's All Day is the latest from local food-and-drink impresario Larry McGuire of the fancy BBQ joint Lambert's.
It's a casual bistro where you can feast on a burger while watching people roll down South Congress in freshly bought Stetsons.
Everyone's got a favorite 'cue spot. Our suggestion: try a bunch 'til you're all smoked out.
One recent, undisputed great for your short list: La Barbecue where the brisket will fall apart on your plastic fork.
The East Austin food truck is open Wednesday to Sunday from 11 a.m. until 6 p.m. — or when they're sold out. Pre-order online or prepare for a line.
On the lighter side, there's Launderette, a James Beard semifinalist featuring modern takes on southern and Mediterranean cuisine, all served family-style.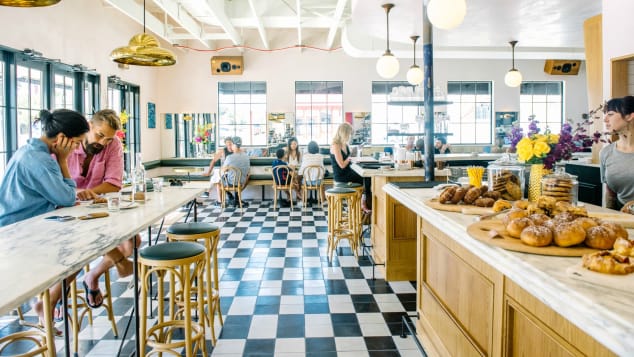 Courtesy June's All Day
New drinks
An old print shop in South Austin is the new home of the 150-year-old carved mahogany bar from the Cedar Tavern in New York, which closed in 2006.
Bakery during the day, beer garden at night, Easy Tiger is a casual hang spot no matter the time.
Early in the day, go for a locally roasted coffee and a Tiger Claw — a riff on a bear claw pastry, with a spiced pecan filling.
Another option, if you have time: Take a short drive to Jester King Brewery. It's a destination for beer geeks searching out some of the country's finest farmhouse ales, set on a rambling, 200-acre ranch.
Getting outside
To burn off the inevitable booze and BBQ calories, hit the Violet Crown Trail, whose path runs from Zilker Park (and the must-visit Barton Springs Pool) through the Barton Creek Greenbelt, a canyon forest studded with swimming holes and sport climbing routes.
And for an outdoor pursuit that's a little more unexpected, there's surfing. Yes, really.
NLand Surf Park offers legit waves — from steep, over six-foot-high reef waves to gentler stuff, in a 14-acre manmade lagoon.
The park opened in October, then closed for repairs less than a month later; it's set to reopen this spring.
One-hour passes are pricey ($60-$90), but unlike the ocean, every wave is predictable, and catchable — so after an hour, you're torched.
Live music
As the self-proclaimed Live Music Capital of the World, Austin has plenty of places to hear world-famous acts.
The latest: 3TEN ACL Live, a cozy, 350-capacity space located in the basement of its big brother venue, ACL Live at the Moody Theater.
Despite its modest size, the acoustically focused room boasts a stellar sound system befitting artists like Son Volt, who performed there unannounced in 2016.
To see a modern take on the honky tonk, drop in to The White Horse where two-stepping by those of all skill levels takes place in front of a low stage.